Welcome to the documentation of
Cortext Manager
, the data analysis platform for citizens and researchers in the social sciences and humanities.
Throughout these pages we will often refer to a corpus. By that we mean information on an ensemble of documents, containing for each document both its textual contents and its metadata. Metadata will vary from corpus to corpus, but usually contains information on the authors, dates, editors or locations pertaining to the document.
Begin your project and analyse your corpus
All the action in Cortext takes place within a project, and so you must start by creating one. Projects help you organize your work and share it with collaborators.
The first step to treat your corpus is to produce and upload it. You should then be led to parse it (the parsing script should be automatically launched after upload). This task will convert the original corpus into a format (an sqlite database) that other tasks in Cortext are prepared to use.
Once you have completed the data parsing step, different tools – we call them "scripts" or "Cortext methods" – are at your disposal to analyze your corpus. It all beings with choosing to start a script.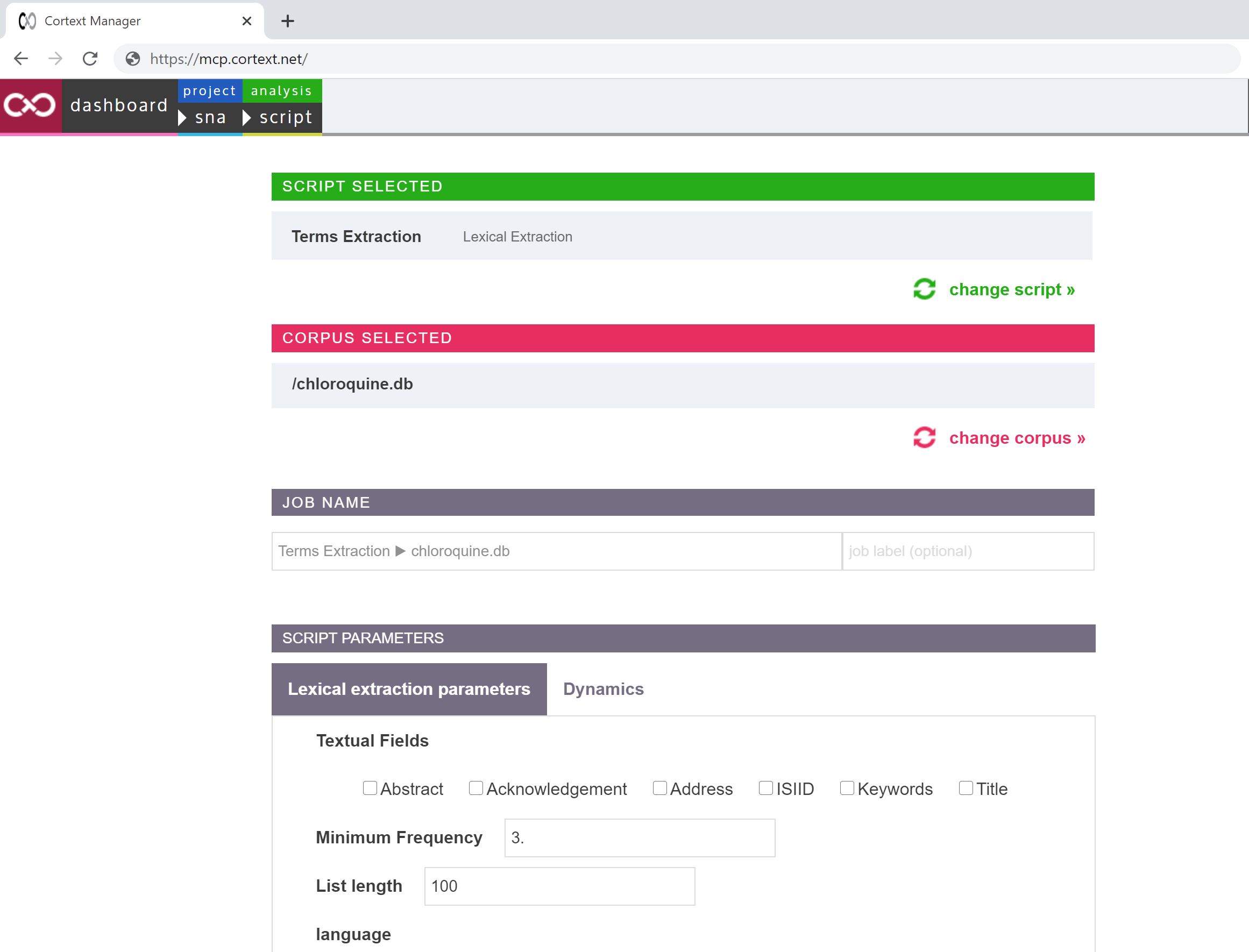 When starting a script, you will be asked to choose which script to start, and then a corpus to apply it to. The corpus should be one of the parsed databases (.db file) in your project. Then, a form in which to provide the parameters for the analysis will appear. Some parameters are required, while others have default values. After choosing the parameters, you may optionally label the analysis, and proceed to start the script.

Once a script is started, an entry for the new analysis will appear in the project page. Once it completes, the outputs are presented there. A log of its execution is also available, by clicking on the (green or red) flag. Should a script not reach completion, the last line of this log should provide some explanation to help you solve the issue or report it in our forum.
Cortext proposes a full ecosystem of modeling and exploratory tools for analyzing text corpora. The main menu of this documentation provides the list of available methods. As a user, you are free to define your own workflow of analysis.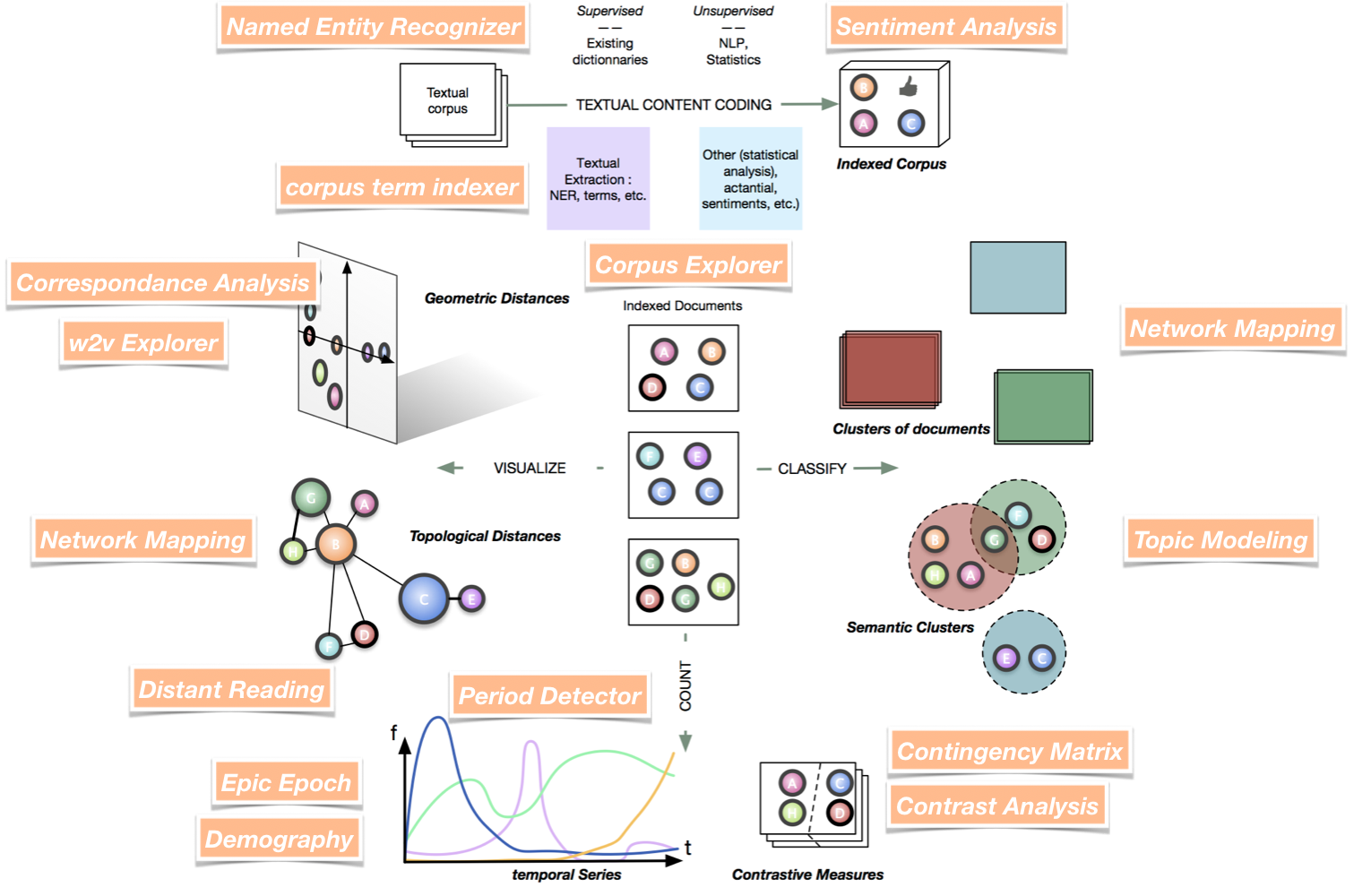 Prepare the corpus for later analysis
The so called processing scripts are typically used to prepare the corpus for later analysis, when needed. They allow you to extract, transform and match information, such as to find the names of cities and convert those to coordinates, or search the text for names in a list you provide and index your documents with them. They can be categorized into Data Processing, Text Processing, Time Processing and Spatial Processing.
Observe your corpus
An additional category for Data Exploration collects scripts that let you directly observe your corpus.
Advanced data analysis methods
And finally, you'll find the more advanced Data Analysis methods:
Now that you're familiarized with the general aspects of Cortext Manager, we hope you'll go ahead and try it out.
Datasets readily available and CorText Manager forum
Don't hesitate to ask for advice on the forum. You'll just be asked to register there, as currently you can't simply use your Cortext Manager credentials. You may also like to watch our videos, for a guided tour, or visit the gallery page to discover some interesting uses of Cortext Manager.
If you want to play around but can't think of any dataset readily available, feel free to use this dataset of recipes from a old Kaggle competition. It features a set of almost 40,000 cooking recipes, along with their regional cuisine of origin as metadata. Upload the zip file, parse the corpus by declaring a json file in the parameters, and start exploring.
You may also want to try this corpus compiling every State of the Union address since 1790, with discourses divided in paragraphs, and the speaker and year of address included as metadata.
The two latest training materials
An additional deck of documents is found in our training materials section. In addition to this website, we regularly organize workshops and some material is available in this repository.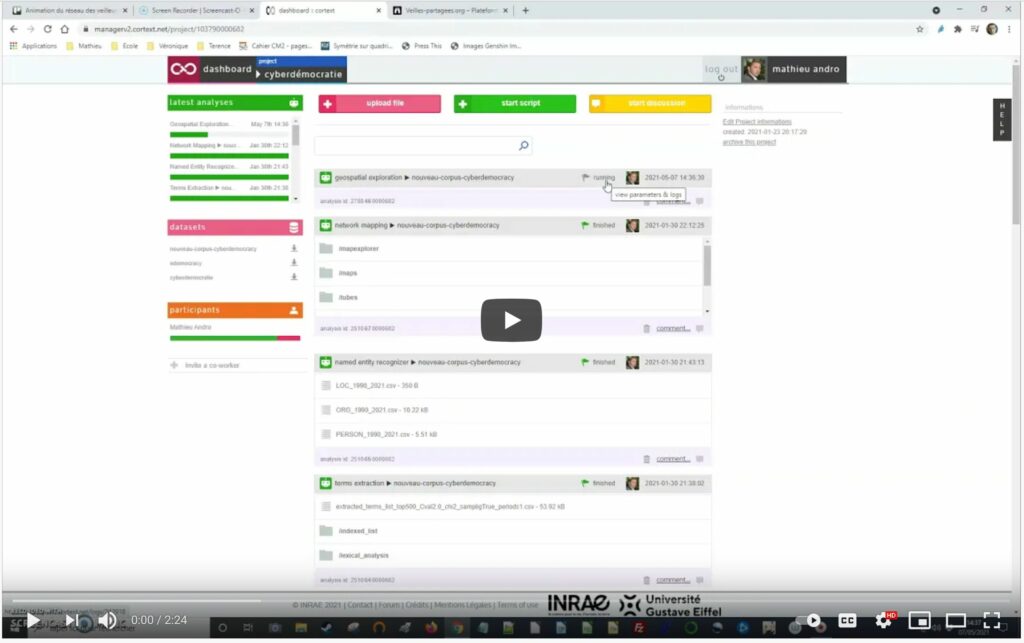 Merci à Mathieu Andro, animateur au Centre de documentation des services du Premier ministre, qui a réalisé les vidéos ci-dessous sur l'utilisation de CorText Manager, destinées au réseau de veille qu'il anime. Une bonne entrée en matière, qui présente des principes de base, pour une ...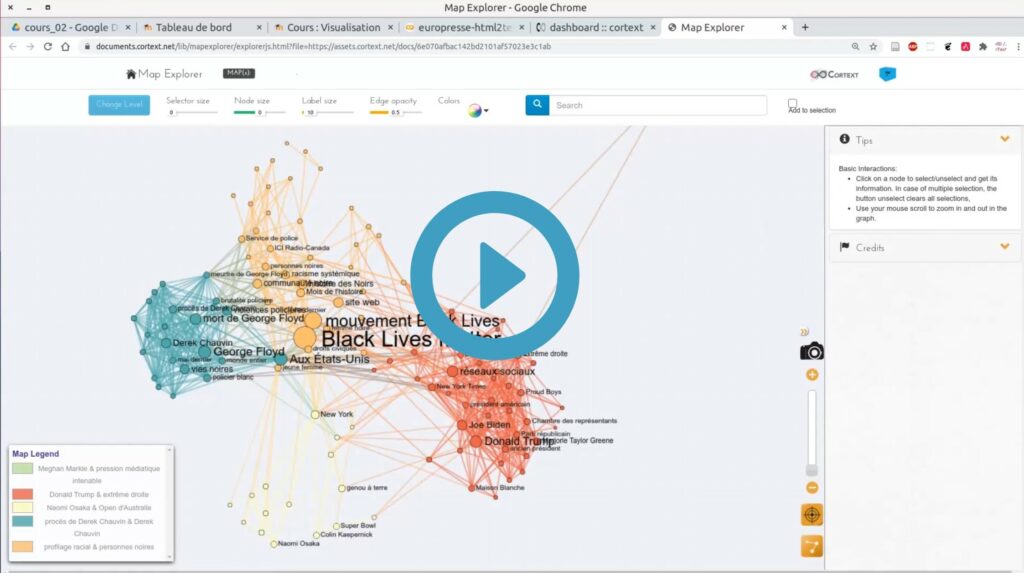 Thanks to Pablo Ruiz Fabo (LiLPa, unistra – University of Strasbourg) follow this step-by-step video tutorial in french which shows: How a corpus in csv format should be formatted ; How to run a lexical extraction and how to refining the noun phrases ; What to do with it: build a network and ...
Works published with CorText Manager
Have a look to what users have published using CorText Manager and appreciate the variety of topics, contexts and uses cases.

Latest documented scripts